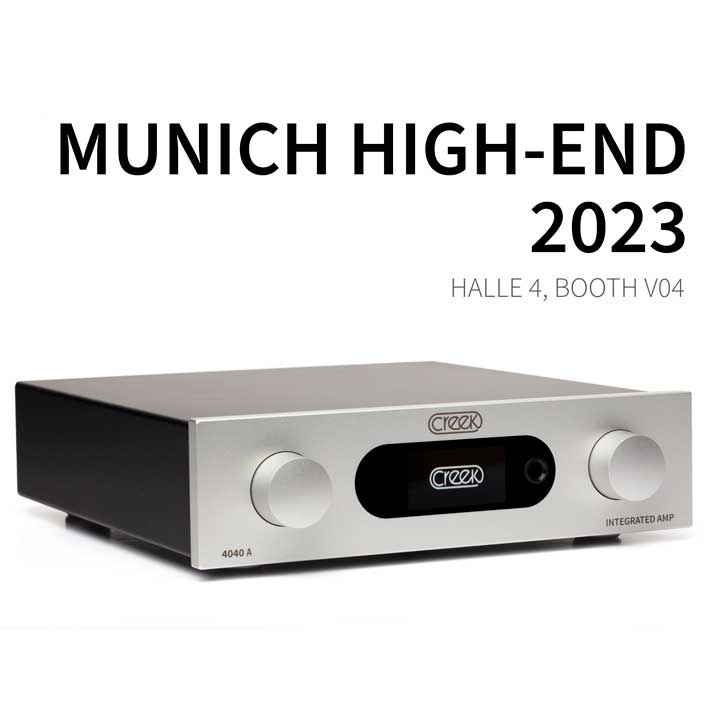 05 May

Munich High-end product launch

Creek Audio, the renowned British manufacturer of high-end audio equipment, is all set to showcase its latest offerings at the Munich High-End Show, scheduled to take place from May 18th to May 21st, 2023. The show is one of the biggest events in the audio industry calendar, bringing together leading manufacturers, audiophiles, and music enthusiasts from around the world.

Creek Audio has been a regular participant in the Munich High-End Show, and this year is no exception. The company is gearing up to unveil its latest integrated amplifier, the 4040A, and its new CD player, the 4040CD. The 4040A is the latest addition to Creek Audio's range of integrated amplifiers, known for their exceptional sound quality and build quality. The 4040A features Creek Audio's latest Class D amplifier design, which delivers 50 watts of power per channel into 8 ohms, and 90 watts into 4 ohms. The amplifier also features a built-in phono stage, allowing it to be used with turntables, and a high-quality DAC, enabling it to be used with digital sources.

The 4040CD, on the other hand, is Creek Audio's latest CD player, designed to deliver the best possible sound quality from CD and other digital sources. The 4040CD features a front-loading mechanism designed to reduce vibration and ensure that the disc is read accurately.

Creek Audio is known for its meticulous attention to detail when it comes to design and build quality, and the 4040A integrated amplifier and 4040CD CD player are no exception. Both products feature Creek Audio's signature aluminium front panels, and the amplifier features a redesigned power supply designed to deliver even greater stability and reliability.

In addition to showcasing the 4040A and 4040CD, Creek Audio will also be demonstrating a range of other products at the Munich High-End Show, including its Voyage i20 integrated amplifier and its OBH-8mk2 phono preamp.

The Munich High-End Show is the perfect platform for Creek Audio to showcase its latest products to a global audience of music enthusiasts and audiophiles. With its reputation for exceptional build quality and sound quality, Creek Audio is sure to attract a lot of attention at the show. If you're attending the Munich High-End Show, be sure to stop by Creek Audio in Halle 4, booth V04 to check out its latest offerings.